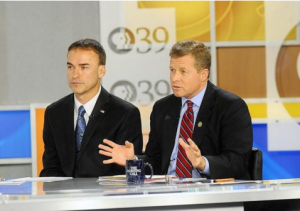 Rick Daugherty (left) debates Charlie Dent (right) in Pennsylvania's… (KEVIN MINGORA, THE MORNING…)
October 16, 2012|By Nicole Radzievich", Of The Morning Call
In an election where unemployment and the economy dominate the headlines, U.S. Rep. Charlie Dent and his Democratic challenger, Rick Daugherty, traded barbs at a debate Tuesday over whether tariffs should be lowered on certain countries doing business with the United States.
Daugherty slammed the agreements, from the 1994 North American Free Trade Agreement under President Bill Clinton to the more recent pacts with Colombia, South Korea and Panama. He blamed those deals for sending jobs — including those at Hershey Foods and T-Mobile — overseas.
"You can't have a company just go over the Rio Grande and pay just pennies a day to work there … and send the products back to us and expect us to compete with that," Daugherty said.
Dent, a Republican, shot back that Hershey, which still makes 70 million kisses a day in a new plant in the district, sent jobs overseas because of bad sugar policies, and T-Mobile left the Lehigh Valley because of antiquated antitrust stances from the Obama administration and agencies.
Dent said the trade agreements increase productivity because they give American companies further reach into the global markets. To create more jobs, especially for small businesses, he said the government has to create more certainty in taxation and regulation so companies invest.
"Where in your economic plan do you stop killing jobs and start creating them?" Dent asked Daugherty toward the end of the debate.
The arguments underscored the deep contrasts between the two candidates for the 15th Congressional District seat during a live debate at PBS39's studios at SteelStacks in south Bethlehem.
The event, moderated by PBS station manager Amy Burkett, was the second of at least four election forums in the relatively low-key 15th District race. The newly drawn district stretches 100 miles from east to west and includes all of Lehigh County and parts of Northampton, Berks, Lebanon and Dauphin counties.
Dent, a four-term congressman who has found success in branding himself as a moderate Republican in years past, is now facing a Republican-friendly constituency in the newly drawn district. He also faces a 51-year-old social worker who has raised very little money — $7,300 on hand compared with Dent's $418,700 — to introduce himself to voters and get his message out in the final month of the campaign.
Dent, 52, of Allentown, spent much of the debate underscoring his opposition to some of President Barack Obama's signature proposals — the health care overhaul and stimulus spending . He said the stimulus program borrowed too much, spent too much and did very little. He argued the health care law drove costs up and made businesses wary of investing in the economy.
Daugherty, of Lowhill Township, said he believes the stimulus spending saved the country from falling into a depression and that the health care law saves money. Daugherty, executive director of the Lehigh County Senior Center, argued the health care law saves money for the ailing Medicare program and drove home Dent's support of a House budget plan that would have altered Medicare.
The plan would have created subsidies that senior citizens could use for the traditional Medicare program or put toward alternative programs.
Dent said he supported that plan, which didn't affect current seniors or those approaching Medicare age, because it saves the program from insolvency. He pointed out that the Congressional Budget Office predicts Medicare will go broke in eight years and Medicare trustees predict 12 years.
"Doing nothing is a choice," he said. "It is a bad choice."
Dent said he supports "reasonable restrictions" on abortions, such as a ban on partial birth or gender selection, and does not support federal funding of abortions. But he would not criminalize abortions beyond those restrictions. Daugherty cast himself as "pro-life."
Dent said he supports voter identification laws because they ensure the integrity of the vote. Daugherty is against such laws, saying they disenfranchise people, including many senior citizens.
The debate will be rebroadcast 7 p.m. Friday on PBS39.
The Morning Call and its partners will host a second debate at 8 p.m. Wednesday between Republican Laureen Cummings and Democrat Matt Cartwright. They are competing to represent the newly configured 17th Congressional District.
http://articles.mcall.com/2012-10-16/news/mc-pa-charlie-dent-congress-debate-2-20121016_1_rick-daugherty-lehigh-county-and-parts-charlie-dent